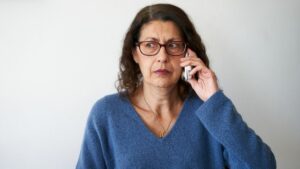 Are you carrying high levels of credit card debt? If so, it's important to be aware that your financial situation puts you at risk of becoming a target for debt collection scams. An experienced debt attorney can help determine whether the creditor contacting you is legitimate or not.
A scammer may use illegal tactics to pressure you into paying debts—even debts that may not belong to you. All too often, these methods are used against borrowers who can least afford it.
Today, we will discuss some key tips on how to identify a debt collection scammer. If you are feeling overwhelmed by debt collectors or are facing a debt lawsuit, contact our legal team for a free case evaluation today.
Common Warning Signs of a Debt Collection Scam
Debt collection scams can be frightening and intimidating, but being aware of the warning signs can help you protect yourself. One common red flag is if the caller insists on immediate payment without allowing you time to verify the debt.
Additionally, scammers may threaten you with legal action or arrest if you don't comply with their demands. Another tactic is to provide incomplete or inaccurate information about the debt, hoping to confuse and intimidate you into paying.
To protect yourself, ask for all of their information, including:
Collector's full name

Company name

Company address and phone number

Company website and email address
If the caller tries to avoid giving you this information, it's highly likely that you are currently being targeted by a scammer.
What To Do if You Receive a Suspicious Call or Email About Your Debt
The best way to protect yourself from debt collection scams is to stay informed and educated. This includes keeping track of your debts, understanding your rights as a borrower, and knowing what steps to take if you are contacted by a debt collector.
First, don't give out any personal information, including your Social Security number or bank account details. If you receive an email, do not click on any links or download any attachments. Instead, re-read the email carefully and look for any red flags, such as typos, grammatical errors, or strange requests.
Don't be afraid to consult with a debt attorney if you suspect a scam. They can help you verify the legitimacy of the caller and take appropriate legal action if necessary. You can also report a fake debt collection agency to the Federal Trade Commission (FTC) and the Consumer Financial Protection Bureau (CFPB).
How to Know if a Lawsuit Notice from a Creditor is Legitimate
Dealing with debt can be a stressful and overwhelming process for anyone. So, when a lawsuit notice arrives from a creditor, it's important to take a step back and evaluate the legitimacy of the notice.
Generally, this notice must include the following information:
This notice generally must include:
Your name and address

Name and address of the creditor and the law firm representing them

Account number associated with the debt

Itemization of the current amount of the debt, including interest, fees, payments, and credits if applicable

Due date for filing your reply to the lawsuit
Understanding the details of the notice and knowing how to respond can make all the difference in the outcome of your case. If you're unsure of the legitimacy of a lawsuit notice, it's always a good idea to seek the advice of a debt attorney. With their expertise and guidance, you can navigate your debt situation with confidence and peace of mind, knowing that your rights are being protected.
Knowledgeable Debt Attorneys, On Your Side
It is strongly recommended you consult with a debt attorney before dismissing any debt collection notices. A debt attorney can assist you with determining if the notice is a scam or an actual lawsuit. They will provide clear guidance on legal processes and stress the importance of documenting all communication in writing and with full detail.
At Heston Law Firm, we have a proven track record of success in similar situations, so don't delay—contact us for a free case evaluation today.