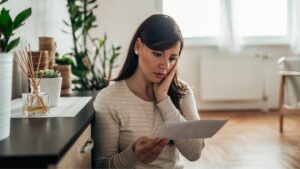 If you have recently been served with a lawsuit from a creditor, it is a serious situation. It is also crucial that it is addressed right away. Depending on the level of debt and your own personal financial situation, you may feel overwhelmed about what to do next. An experienced credit card debt attorney can fight for a favorable outcome for your debt lawsuit.
In this post, we will discuss the immediate steps you should take if you have just received notice of legal action being taken against you. Our experienced legal team can help. Contact us today for a free consultation.
How a Creditor is Able to Sue You for Your Credit Card Debt
It can be a confusing and frustrating experience to find out that your debt has been sold to a creditor who is now pursuing legal action against you. This is a common practice in the credit card industry, and it's important to understand how it works. 
Essentially, when you are unable to make payments on your credit card debt, the company may choose to sell that debt to a third-party creditor. This new creditor then becomes the owner of the debt. This gives them the legal right to collect the outstanding balance from you. If you find yourself in this situation, it is important to seek legal counsel from a credit card debt lawyer. 
You Must Respond to the Lawsuit within a Specific Window of Time
If you receive a lawsuit notice, it is essential to act quickly. If you do not respond to the notice within the given timeframe, you automatically lose your case. Usually, a judgment is then filed against you. This can lead to bank garnishment and other serious, long-term financial consequences.
If you choose to hire a credit card debt attorney, it is crucial you or your lawyer respond to the lawsuit notice. You need to file your response as quickly as possible. The timeline for answering can range between 14 and 30 days. Taking action right away will ensure the best outcome for your financial situation.
Consult with an Experienced Credit Card Debt Attorney
If you are facing the complexities and stress of a debt lawsuit, the best course of action is to contact an experienced credit card debt attorney. Your attorney will take the legal reins and fight for you. 
They have the necessary expertise to navigate the legal system, and they know how these large creditors operate. So you can rest assured that you are getting the best possible outcome. They will work tirelessly to get your lawsuit dismissed or settled, helping to ensure that your financial future remains intact. 
Heston Law Firm Fights for You
To get the best outcome if you have been sued for unpaid debt, contact our trusted credit card attorneys. At Heston Law Firm, our legal team will fight for you and work to get your lawsuit dismissed or settled. With their high success rates, you can trust that they are the right legal team for the job. For help and advice, contact us now at Heston Law Firm to schedule a legal consultation and begin taking control of your finances once more.